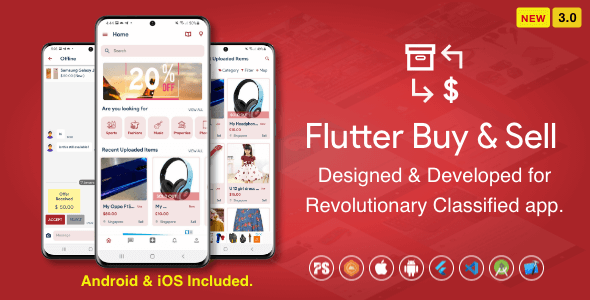 – Version : 3.0 | Changelog
– Released Date : 13 Jan 2022
– Provided Source Code : Flutter Project and the Backend(CodeIgniter).
– Website Also Available : BuySell Frontend
– You can try iOS | Android
– Are you looking for other apps from Panacea-Soft.?
Creative alternative apps for all your business
– Restaurant Apps Collection ( Users App, Shop Admin App, Delivery Boy App with a single backend)
– eCommerce Apps Collection ( You can build either single or multi-vendor )
– Grocery Apps Collection ( User App and Delivery Boy with a single backend )
– Directory Apps Collection ( Directory App based on the City (Single or Multiple) )
– Classified Apps Collection ( BuySell classified App and Website for cars, houses, and anything for general )
Online Userguide
If you not found the soultion then you can open the support ticket.
Be aware the extended license benefit
Reskin service for the regular license
Release Note

Version 3.0
Relesed Date 13 Jan 2022
Change Log : https://bit.ly/33dFJl6


Version 2.9
Relesed Date 16 Nov 2021
Change Log : https://bit.ly/3cjqYhO


Version 2.8
Relesed Date 18 Oct 2021
Change Log : https://bit.ly/3AVJmXI


Version 2.7
Relesed Date 30 Aug 2021
Change Log : https://bit.ly/3zwhWHZ


Version 2.6
Relesed Date 25 Jun 2021
Change Log : https://bit.ly/3ddIftw


Version 2.5
Relesed Date 27 May 2021
Change Log : https://bit.ly/3fPStk9


Version 2.4
Relesed Date 19 May 2021
Change Log https://www.panacea-soft.com/2021/05/19/flutter-buysell-v2-4-version-release/


Version 2.3
Release Date : 7 Feb 2021 
Change Log : https://bit.ly/2YV4Za0


Version 2.2
Released Date : 14 Jan 2021
Change Log : https://bit.ly/2N4oAlC


Version 2.1
Released Date : 23 Dec 2020
Change Log : https://bit.ly/3hcl6Ze


Version 2.0
Released Date : 31 Oct 2020
Change Log : https://bit.ly/34Lju4e


Version 1.9
Released Date : 22 Oct 2020
Change Log : https://bit.ly/2Ti95Xe 


Version 1.8
Released Date : 12 Sep 2020
Change Log : https://bit.ly/3hqcDju


Version 1.7
Released Date : 3 Sep 2020
Change Log : https://bit.ly/2EVTVD9


Version 1.6
Released Date : 13 Aug 2020
Change Log : https://bit.ly/3gVDIfh


Version 1.5
Released Date : 6 Jul 2020
Change Log : https://bit.ly/3kLIJJk


Version 1.4
Released Date : 13 Jun 2020
Change Log : https://bit.ly/2E4PkO9


Version 1.3
Released Date : 28 May 2020
Change Log : https://bit.ly/30UFSWM


Version 1.2
Released Date : 19 May 2020
Change Log : https://bit.ly/30RvFue


Version 1.1
Released Date : 8 May 2020
Change Log : https://bit.ly/3fUR5uE


Version 1.0
Released Date : 5 May 2020

Keywords
ad listing android app, ad posting, ads, Olx, mercari, classified,classified ads,for sell,for buy,marketplace,offerup,chatting,buyer app,seller app,letgo

Source